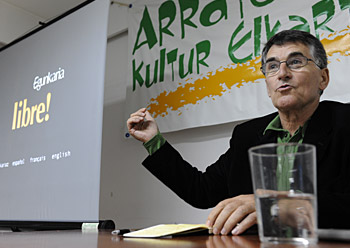 Joan Mari Torrealdai.
Torrealdai ha pedido "otro esfuerzo" a la sociedad, ante la previsión del comienzo del juicio
6 de noviembre de 2009
Joan Mari Torrealdai, uno de los cinco procesados en el caso del cierre de Euskaldunon Egunkaria pidió ayer a la sociedad vasca que haga "otro esfuerzo", en alusión al apoyo que les mostró en la manifestación celebrada el 22 de febrero del 2003 en San Sebastián, apenas dos días después del cierre del mencionado periódico. Aquella manifestación demostró que la lengua vasca une a este pueblo". Según subrayó Torrealdai, "la mejor defensa" en este caso es el fiscal de la Audiencia Nacional, puesto que al contrario de lo que suele ser la postura general de la fiscalía en materias relacionadas con el conflicto vasco, en el caso de Egunkaria el fiscal ha demandado archivar el caso en repetidas ocasiones. Así pues, Torrealdai dijo que si existiera la justicia, dormiría bien. "El 20 de febrero de 2003 me acosté de una manera y me obligaron a levantarme de otra", recordó Torrealdai y añadió que desde entonces ha vivido un "infierno". Han pasado seis años desde aquel suceso y está previsto que el juicio comience pronto. Según reconoció Torrealdai, durante este tiempo se ha mantenido "de pie y con dignidad" gracias a "la ayuda, el apoyo y el cariño" de la gente. 
Torrealdai recalcó que en los últimos seis años no han tenido otra cosa en la cabeza que el caso Egunkaria. "Nos han sacado del ámbito de la cultura vasca, han frenado nuestra aportación a la cultura vasca". Y en lo que respecta al juicio, no es muy optimista. Esta convencido de que la Audiencia Nacional les impondrá algún tipo de castigo, a pesar de que no tiene ninguna prueba contra ellos. 
* Joan Mari Torrealdai es sociólogo y periodista y ha publicado numerosos libros y artículos sobre la cultura vasca. Ha sido director de la revista cultural Jakin (saber) durante años y compaginó dicha labor con la de presidente del Consejo de Administración de Egunkaria, S.A. En octubre de este año ha ingresado en la Real Academia de la Lengua Vasca (Euskaltzaindia). 
—–
Torrealdai has called on the general public for "another effort", before the start of the trial November 6, 2009
Joan Mari Torrealdai, one of five defendants in the case involving the closing down of Egunkaria, yesterday called on the Basque public to make "another effort," referring to the support it gave to the defendants in the demonstration held on 22 February 2003 in San Sebastian, just two days after the closing down of the newspaper. "That demonstration showed that the defence of the Basque language unites this country". Torrealdai stressed that "the best defence" in this case is the prosecutor of the Spanish National Criminal Court, since he has called for the case to be dropped once and for all, contrary to the usual position of the prosecution in matters relating to the Basque conflict. 
So Torrealdai said that if justice existed, he would sleep well. "On 20 February 2003, I went to bed one way and they forced me to get up in another way," recalled Torrealdai, adding that since then he has been going through "hell". Six years have passed since this incident and the trial is expected to begin soon. According to Torrealdai, during this time he has been "strong" and has kept his "dignity" thanks to "the help, support and affection" of the people.
Torrealdai stressed that in the past six years nothing but the Egunkaria case has been on their minds. "We have been kept out of the field of Basque culture, we have been prevented from making our contribution to Basque culture". And in regard to the trial, he is not very optimistic. He is convinced that the Criminal Court will hand down some sort of punishment, despite having no evidence against them. * Joan Mari Torrealdai is a sociologist and a journalist and has published many books and articles on Basque culture. He has been the editor of the cultural magazine Jakin for years and combined this work with that of chairman of Egunkaria's Board of Directors. In October this year he was made a member of the Royal Academy of the Basque Language (Euskaltzaindia).  
—–
Torrealdai ha demanat "altre esforç" a la societat, davant la previsió del començament del judici 
6 de novembre de 2009
Joan Mari Torrealdai, un dels cinc processats en el cas del tancament de Euskaldunon Egunkaria va demanar ahir a la societat basca que faci "altre esforç", en al·lusió al suport que els va mostrar en la manifestació celebrada el 22 de febrer del 2003 a Sant Sebastià, tot just l'endemà passat del tancament de l'esmentat periòdic. Aquella manifestació va demostrar que la llengua basca uneix a aquest poble". Segons va subratllar Torrealdai, "la millor defensa" en aquest cas és el fiscal de l'Audiència Nacional, ja que al contrari del que sol ser la postura general de la fiscalia en matèries relacionades amb el conflicte basc, en el cas de Egunkaria el fiscal ha demandat arxivar el cas en repetides ocasions. Per tant, Torrealdai va dir que si existís la justícia, dormiria bé. "El 20 de febrer de 2003 em vaig ficar d'una manera i em van obligar a aixecar-me d'una altra", va recordar Torrealdai i va afegir que des de llavors ha viscut un "infern". Han passat sis anys des d'aquell succés i està previst que el judici comenci aviat. Segons va reconèixer Torrealdai, durant aquest temps s'ha mantingut "dempeus i amb dignitat" gràcies a l'ajuda "el suport i l'afecte" de la gent. 
Torrealdai va recalcar que en els últims sis anys no han tingut altra cosa en el cap que el cas Egunkaria. "Ens han tret de l'àmbit de la cultura basca, han frenat la nostra aportació a la cultura basca". I pel que fa al judici, no és molt optimista. Aquesta convençut que l'Audiència Nacional els imposarà algun tipus de càstig, a pesar que no té cap prova contra ells. 
* Joan Mari Torrealdai és sociòleg i periodista i ha publicat nombrosos llibres i articles sobre la cultura basca. Ha estat director de la revista cultural Jakin (saber) durant anys i va compaginar aquesta labor amb la de president del Consell d'Administració de Egunkaria, S. A. A l'octubre d'aquest any ha ingressat en la Real Acadèmia de la Llengua Basca (Euskaltzaindia).