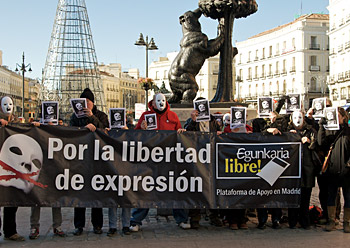 (Madrid)
Apoyo a Egunkaria también en Madrid, Barcelona y Zaragoza
19 de diciembre de 2009
Al mismo tiempo que miles de personas se manifestaban por las calles de Bilbao, decenas de personas se han concentrado en las calles de Madrid y Zaragoza en apoyo al periódico Egunkaria y en solidaridad con las personas encausadas. En Barcelona, el acto de solidaridad lo celebraron el día 15, fecha de inicio del juicio que se está celebrando en la Audiencia Nacional de Madrid.
En Madrid, un grupo de representantes de la Plataforma de apoyo en Madrid se ha reunido en la Puerta del Sol, no llegando al número de personas que pudiera ser considerado como concentración ilícita, ya que la Delegación del Gobierno Español prohibió convocar una manifestación, al considerar que los fines eran ilícitos y que su celebración, por calles del centro, provocaría alteración del orden público.
En la Plaza de España de Zaragoza, unas ciento cincuenta personas se han concentrado durante una hora, en solidaridad con las personas procesadas en el caso Egunkaria. Se ha desplegado una pancarta con los lemas "No en-cerrar periódicos. Plataforma Aragonesa de Apoyo a Egunkaria". Además, se han repartido cuartillas explicativas y el acto ha finalizado con la lectura del manifiesto a favor de Egunkaria disponible en esta página web. Algunos viandantes han mostrado interés en el caso y se ha constatado el desconocimiento generalizado sobre él.La Plataforma Aragonesa de apoyo a Egunkaria, conformada por variados colectivos culturales, vecinales y políticos, ha anunciado que continuará recogiendo firmas y hay previstas más actividades en solidaridad con Egunkaria, que se celebrarán en enero, como una fiesta de apoyo y una charla informativa.
En Barcelona, unas 150 personas se reunieron el martes día 15 en la plaza Sant Jaume,  bajo el lema "Contra la ley del silencio, no a el juicio contra Egunkaria".  Por otra parte, se ha previsto la celebración de nuevos actos en enero, como pedir al Parlamento de Cataluña y al Colegio de Periodistas que muestren su apoyo a Egunkaria, tal y como lo hicieron en 2003, después del cierre del diario.
Fuentes: Plataforma de Madrid en Apoyo a Egunkaria, Plataforma Aragonesa de Apoyo a Egunkaria y Vilaweb
—-
Madrid, Barcelone et Saragosse aussi en faveur d' Egunkaria
Le 19 décembre
Des rassemblements à Madrid et à Saragosse ont fait échos aux centaines de milliers de personnes qui ont manifesté à Bilbao en faveur d'Egunkaria et des accusés.
A Madrid, un groupe limitée de la plateforme pour Egunkaria s'est rassemblé à la Puerta del Sole. Ils n'ont pas voulu être accusé de rassemblement illégal. En effet, la délégation de Madrid du gouvernement espagnole a interdit l'appel à manifester à Madrid. Pour eux, le but est illégal et il y a risque de trouble à l'ordre public.
150 personnes se sont réunis à Saragosse derrière la banderole: "Ne fermez pas Egunkaria". Le rassemblement a été organisé par La plataforme d'Aragon. Ils en ont profité pour distribuer le manifeste d'Egunkaria (disponible sur ce site internet). Ils ont constaté que les passants ne sont pas au courant de l'affaire. La plateforme organisera une fête de solidarité et une conférence courant janvier. En attendant, elle continue à récolter les signatures.
Le rassemblement de Barcelone a aussi réuni 150 personnes derrière la banderole: "Contre la loi du silence, non au procès contre Egunkaria", le 15 décembre, lors du premier jour du procès. La plateforme catalane va demander au parlement catalan et à l'association des journalistes de Catalogne de réitérer leur soutien à Egunkaria, comme ils l'ont déjà fait en 2003, juste après la fermeture du journal.
Source: Les plateformes en faveur d'Egunkaria de Madrid, de l'Aragon et Vilaweb 
—-
Support for Egunkaria in Madrid, Barcelona and Zaragoza
19 December 2009
While masses of people were attending a rally in support of Egunkaria in Bilbao, dozens of people gathered in Madrid and Zaragoza to support the newspaper and express solidarity with the five leading members being tried. And in Barcelona a gathering to express support took place on 15 December, in Sant Jaume square –on the very same day that the trial in the case involving the closing down of Egunkaria started at the Spanish National Criminal Court.
In Madrid, a reduced number of representatives of the Madrid Platform in Support of Egunkaria gathered at the Puerta del Sol gate to avoid being charged with illegal assembly. In fact, the Spanish Government's representative in Madrid had forbidden the calling of a demonstration on the grounds that the rally's objective was illegal and that passing through the main streets of Madrid would constitute a breach of public order.
In the España square of Zaragoza, about 150 people got together for an hour to show their solidarity with the leading members of Egunkaria being tried; they stood behind a banner stating "No to the closing down of newspapers, Aragon Platform in Support of Egunkaria". They also handed out some informative sheets about the case and finished the gathering by reading a manifesto in support of Egunkaria (available at this website). Some passers-by expressed interest in the case and the members of the platform became aware that the general public had not heard about it.The Aragon Platform in Support of Egunkaria (composed of several cultural, neighbourhood and political movements) has announced that it will keep on collecting signatures in support of Egunkaria. Furthermore, in January, it will be organising some other acts, for example: a solidarity event and a conference.
In Barcelona, about 150 people gathered on Tuesday January 15 in Sant Jaume square; their slogan was: "Against the law of silence, no to the Egunkaria trial". The Catalan support committee of Egunkaria announced more actions for January, including a request to the Parliament of Catalonia and the Association of Journalists of Catalonia to show their support Egunkaria once again, as they both did in 2003, after the closing down of the newspaper.
Sources: Madrid Platform in Support of Egunkaria, Aragon Platform in Support of Egunkaria and Vilaweb.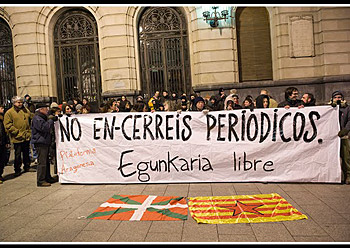 (Zaragoza)
—-
Suport a 'Egunkaria' també a Madrid, Barcelona i Saragossa
19 de desembre de 2009
Al mateix temps que milers de persones es manifestaven pels carrers de Bilbao, desenes de persones s'han concentrat en els carrers de Madrid i Zaragoza en suport al periòdic Egunkaria i en solidaritat amb les persones encausades. En Barcelona, l'acte de solidaritat ho van celebrar el dia 15, data d'inici del judici que s'està celebrant en l'Audiència Nacional de Madrid.
En Madrid, un grup de representants de la Plataforma de recolzo en Madrid s'ha reunit en la Porta del Sol, no arribant al nombre de persones que pogués ser considerat com concentració il·lícita, ja que la Delegació del Govern Espanyol va prohibir convocar una manifestació, al considerar que les fins eren il·lícits i que la seva celebració, per carrers del centre, provocaria pertorbació de l'ordre públic.
En la Plaça d'Espanya de Saragossa, unes cent cinquanta persones s'han concentrat durant una hora, en solidaritat amb les persones processades en el cas Egunkaria. S'ha desplegat una pancarta amb els lemes "No en-tancar periòdics. Plataforma Aragonesa de Suport a Egunkaria". A més, s'han repartit quartilles explicatives i l'acte ha finalitzat amb la lectura del manifest a favor de Egunkaria disponible en aquesta pàgina web. Alguns vianants han mostrat interès en el cas i s'ha constatat el desconeixement generalitzat sobre ell.La Plataforma Aragonesa de suport a Egunkaria, conformada per variats col·lectius culturals, veïnals i polítics, ha anunciat que continuarà recollint signatures i hi ha previstes més activitats en solidaritat amb Egunkaria, que se celebraran al gener, com una festa de suport i una xerrada informativa.
En Barcelona, unes 150 persones es van reunir el dimarts dia 15 en la plaça Sant Jaume, sota el lema "Contra la llei del silenci, no al judici contra Egunkaria". Per altra banda, s'ha previst la celebració de nous actes al gener, com demanar al Parlament de Catalunya i al Col·legi de Periodistes que mostrin el seu suport a Egunkaria, tal com ho van fer en 2003, després del tancament del diari.
Fonts: Plataforma de Madrid en Suport a Egunkaria, Plataforma Aragonesa de Suport a Egunkaria i Vilaweb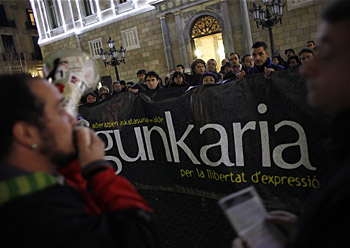 (Barcelona)