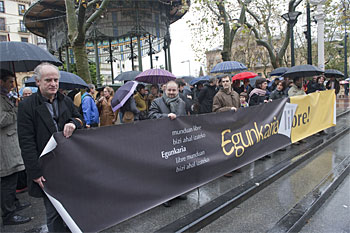 Porque no olvidan la "injusticia"
26 de diciembre de 2009
Los antiguos trabajadores de Egunkaria se han concentrado hoy en San Sebastián. Al igual que durante los últimos siete años, han denunciado la "injusticia" que supone el cierre del periódico, en primera fila, sujetando una pancarta que reivindica Egunkaria libre!
También han estado presentes el dirigente del sindicato Comisiones Obreras Jesús Uzkudun, el historiador Josu Txueka, el presidente del Consejo de Administración del actual diario en lengua vasca Berria y algunos de los imputados en el caso Egunkaria.
Iñaki Petxarroman ha tomado la palabra en nombre de los antiguos trabajadores del diario Egunkaria, que fue clausurado por la Audiencia Nacional. Petxarroman ha agradecido a la sociedad el apoyo mostrado hasta la fecha y el esfuerzo realizado, sobre todo, por la "demostración" realizada en Bilbao. Y les ha pedido que continúen participando en acciones de apoyo.
– No se quedaron callados
La decisión de cerrar el diario Egunkaria dejó sin trabajo a unas 180 personas, que trabajaban para Egunkaria, S.A. o las empresas ligadas a aquella. Pero los trabajadores respondieron al golpe abriendo otro periódico. Publicaron el diario Egunero el día después del cierre de Egunkaria (febrero de 2003) y continuaron con ese proyecto provisional hasta que crearon el diario Berria (junio de 2003).
—-
Parce qu'ils n'oublient pas "l'injustice"
Le 26 décembre 2010
Les anciens employés d'Egunkaria se sont rassemblés aujourd´hui à Saint Sébastien. Comme lors des 7 années écoulées, ils dénoncent de nouveau "l'injustice" de la fermeture du journal.
Etaient présents en soutien aux employés et aux accusés dont certains étaient présents, entre autres, Jesus Uzkudun membre de la direction du syndicat CCOO, l'historien Josu Txueka, Joxan Lizarribar le président du conseil d'administration EKT, éditeur du quotidien "Berria".
Iñaki Petxarroman, au nom des employés a remercié tous les citoyens qui les ont soutenu sans relache ; notamment lors de la "démonstration" faite à Bilbao, soit la manifestation du 19 décembre où des milliers de personnes se sont rassemblées. Il a invité tout le monde à participer aux prochains rendez-vous.
– Ils ne se sont jamais tûs 
La fermeture d'Egunkaria laisse sans travail près de 180 employés. Ceux-ci créent un autre journal provisoire "Egunero", dont le premier exemplaire sort au lendemain même de la fermeture dEgunkaria (février 2003). Puis, ils créent le quotidien Berria (en juin 2003), quotidien qui continue à paraître (www.berria.info).
—-
Because they don't forget "injustice"
26 December, 2009
The ex-employees of the newspaper Egunkaria have held a rally in San Sebastian today. As they have done over the past seven years, they spoke out against the injustice that has been committed with the closure of the newspaper, as they held up the 'Egunkaria free' banner in front of the group.
The rally included Jesus Uzkudun, leader of the CCOO trade union in the Basque Autonomous Community, the historian Josu Txueka, Joxean Lizarribar, the chairman of the Board of Directors of the EKT (Basque-language Media group that publishes the newspaper Berria), and some of the defendants in the Egunkaria case.
Iñaki Petxarroman spoke on behalf of the former members of staff and expressed gratitude for the support given by the public throughout the years, especially at the rally of Bilbao. And he made a plea for citizens to continue to show the same support as they had so far.
– They did not remain silent
The closure of the newspaper made more than 180 members of staff redundant. The staff, however, responded to the blow constructively. The day after the closing down of the newspaper a new publication, Egunero, was launched; on 21 February 2003, to be exact, and they kept the project going until the newspaper Berria was set up in June 2003.
—-
Perquè no obliden la "injustícia"
26 de desembre de 2009 
Els antics treballadors de Egunkaria s'han concentrat avui a Sant Sebastià. Igual que durant els últims set anys, han denunciat la "injustícia" que suposa el tancament del periòdic, en primera fila, subjectant una pancarta que reivindica Egunkaria lliure!
També han estat presentis el dirigent del sindicat Comissions Obreres Jesús Uzkudun l'historiador Josu Txueka, el president del Consell d'Administració de l'actual diari en llengua basca Berria i alguns dels imputats en el cas Egunkaria.
Iñaki Petxarroman ha pres la paraula en nom dels antics treballadors del diari Egunkaria, que va ser clausurat per l'Audiència Nacional. Petxarroman ha  agraït a la societat el suport mostrat fins a la data i l'esforç realitzat, sobretot, per la "demostració" realitzada a Bilbao. I els ha demanat que continuïn participant en accions de suport.
– No es van quedar callats
La decisió de tancar el diari Egunkaria va deixar sense treball a unes 180 persones, que treballaven per a Egunkaria, S. A. o les empreses lligades a aquella. Però els treballadors van respondre al cop obrint altre periòdic. Van publicar el diari Egunero el dia després del tancament de Egunkaria (febrer de 2003) i van continuar amb aquest projecte provisional fins que van crear el diari Berria(juny de 2003).