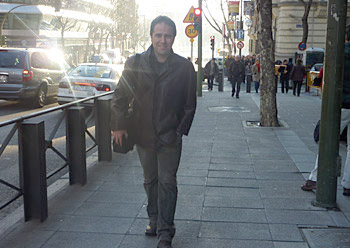 El periodista Imanol Murua Uria ha declarado que él fue quien sugirió que Martxelo Otamendi fuera director de Egunkaria
25 de enero de 2010
El ex periodista de Euskaldunon Egunkaria Imanol Murua Uria, en declaración reclamada por la defensa, ha negado las acusaciones de las acusaciones particulares Dignidad y Justicia y la Asociación de Víctimas del Terrorismo (AVT). El periodista ha reconocido ante el juez que fue él quien propuso el nombre de Martxelo Otamendi a Joan Mari Torrealdai, presidente del Consejo de Administración de Egunkaria, S.A., en 1993. Otamendi fue nombrado director del diario en euskara en junio de aquel mismo año, puesto en el que se mantuvo hasta el día que, ordenada por el juez Juan del Olmo, se produjo la clausura del diario, el 20 de febrero del 2003. Por otro lado, Iñaki Zabaleta, catedrático de la Universidad del País Vasco, ha recordado que fue el PSE quien rompió la primera fase de fría relación entre el diario en euskara y el Gobierno Vasco, entonces liderado por el Partido Nacionalista Vasco. Además, ha negado que ETA hubiera tenido ningún tipo de relación con Egunkaria.
Murua Uria y Zabaleta han sido los primeros testigos de la defensa que han prestado declaración. Previamente han tenido la palabra los últimos testigos de la acusación popular; entre ellos, Txomin Aizpurua, antiguo miembro de ETA y ex preso, quien ha asegurado no tener conocimiento de ningún informe sobre la creación del diario Egunkaria. Según la acusación, a Aizpurua le fueron requisados documentos sobre Egunkaria. El diario Egunkaria fue creado en 1990, y un año después se produjo la detención de Aizpurua.
También han declarado, a petición de la acusación popular, dos guardias civiles que participaron en la detención de Otamendi y Txema Auzmendi. El primero de ellos, que participó en la detención del director del diario, ha asegurado no recordar lo ocurrido, y han tenido que mostrársele actas de la detención para que lo reconociera. Primero ha preguntado quién es Otamendi, y posteriormente ha afirmado que se le encontraron varios Zutabe–s (boletines internos de ETA) en el registro, pero no recordaba dónde.
Al final de la sesión,  el juez Javier Gómez Bermúdez ha aplazado la vista hasta el miércoles, con motivo del fallecimiento de la madre de uno de los abogados de la acusación. Por lo tanto, el miércoles, tras la declaración de los últimos testigos de la defensa, comenzaran a declarar los peritos. Será la quinta jornada del juicio a Egunkaria.
Es probable que la acusación y la defensa realicen sus peticiones a finales de febrero.
Por otra parte, el pasado sábado, los imputados del caso Egunkaria recibieron el apoyo de una amplia parte de la sociedad vasca en el santuario de Arantzazu (Oñati, Gipuzkoa).
—-
Un ancien journaliste de Egunkaria a confirmé que c'est lui qui a proposé Otamendi comme directeur de Egunkaria
Le 25 janvier 2010
Imanol Murua Uria un ancien journaliste de Egunkaria a nié le fait que ce serait suite à une décision de ETA qu'ils ont choisi Martxelo Otamendi comme directeur du journal; comme le prétend l'accusation. Le journaliste a fait savoir au juge que c'est lui qui a proposé le nom de Otamendi en 1993 à Joan Mari Torrealdai, alors président du conseil d'administration de Egunkaria SA. En juin de la même année Otamendi a effectivement été nommé comme directeur. Il est resté à ce poste jusqu'en février 2003, date à laquelle Juan de Olmo a fait fermer le journal.
D'autre part, le journaliste, écrivain Iñaki Zabaleta, qui est aussi professeur de l'université UPV-EHU du Pays basque a remémoré l'époque de la création du journal. Il faisait parti du groupe Egunkaria Sortzen (Créer Egunkaria). Il a affirmé fermement qu'Egunkaria n'a jamais eu une quelconque relation avec l'organisation ETA : "L'organisation n'a jamais eu d'influence. Elle n'a jamais pu prendre part. Nous ne l'aurions jamais accepté".
Murua Uria et Zabaleta ont été les deux témoins appelés par la défense, qui ont déposé leur déclaration ce matin. Avant eux, c'est Txomin Aizpurua qui a été entendu, en tant qu'ancien membre de l'ETA. Lui a été appelé par l'accusation. Il a dit qu'il n'a pas connaissance de document de l'époque de la création du journal. D'après l'accusation, on lui aurait trouvé des documents concernant Egunkaria. Le quotidien a débuté en 1990. Aizpurua a été arrêté un an après.
Ont aussi été entendu deux gardes civils qui ont participé à l'arrestation des accusés Martxelo Otamendi et Txema Auzmendi. Le premier a tout d'abord dit qu'il ne se rappelle pas avoir participé à l'arrestaion de Otamendi. Il a fallu lui montrer des documents pour qu'il puisse le confirmer. Il a demandé qui est Otamendi. Il a rajouté qu'il a trouvé des Zutabe (bulletin interne de l'ETA) lors des fouilles, mais il ne se rappelle pas où.
A la fin de la séance, le juge Javier Gómez Bermúdez a fait savoir que le procès va être suspendu jusqu'a mercredi, la mère de l'un des avocats de l'accusation ayant décédée.
Mercredi donc, 5ème jour du procès, tous les témoins de la défense vont être entendu, puis ce sera au tour des experts.
Le juge n'a pas parlé des plaidoiries qui pourront avoir lieu fin février.
—-
A journalist of 'Egunkaria' says he proposed Otamendi as the Editor-in-Chief
25 January 2010
Imanol Murua-Uria, a former member of staff of Egunkaria and a witness for the defence, denied that ETA had said that Martxelo Otamendi should be appointed as the newspaper's Editor-in-Chief; this is one of the arguments put forward by the prosecution. The journalist told the judge that he had suggested Otamendi to Joan Mari Torrealdai, the Chairman of Egunkaria, S.A.'s Board of Directors, in 1993. Otamendi was appointed as Editor-in-Chief of Egunkaria in June of that year and remained in that post until the paper was closed down on the orders of Judge Juan del Olmo in February 2003. In addition, Iñaki Zabaleta, a Professor of the UPV/EHU-University of the Basque Country explained that it was the PSE [Socialist Party in the Basque Autonomous Community] "that broke the initial frostiness between the EAJ [Basque Nationalist Party] and Egunkaria," and denied that ETA had participated in Egunkaria in any way.
Murua-Uria eta Zabaleta were the first witnesses called by the defence counsel to give evidence. Before them the last witnesses called by the private prosecution gave evidence; one of them was Txomin Aizpurua, a one-time ETA member and former prisoner. Aizpurua declared that he did not know of any reports going back to the time of the setting up of the newspaper. Yet according to the prosecution, documents about Egunkaria had been seized from him. The newspaper was set up in 1990 and Aizpurua was arrested a year later.
The two Guardia Civil officers who had participated in the arrests of Otamendi and Txema Auzmendi were called by the prosecution to give evidence. The first one, who took part in the arrest of Egunkaria's Editor-in-Chief, initially said he had no recollection of this and had to be shown the record of arrest before he admitted that this had been the case. He then asked who Otamendi was, and went on to say that copies of Zutabe (ETA's internal newssheets) had been found during the searches made of him, but he did not remember where they had been found.
At the end of the session Judge Javier Gómez-Bermúdez announced that the trial would be adjourned until Wednesday, because the mother of one of the prosecution lawyers had passed away. So on Wednesday, when the turn of the defence witnesses has finished, the expert witnesses will start to give evidence. That will be 5th session of the trial.
The prosecution and the defence may submit their findings to the panel of judges at the end of February. 
On Saturday (23 January) the indictees received the broad support at Arantzazu (Oñati, Gipuzkoa) of prominent figures in society.
—-
El periodista Imanol Murua Uria ha declarat que ell va ser qui va suggerir que Martxelo otamendi fos director de Egunkaria
25 de gener de 2010
El ex periodista de Euskaldunon Egunkaria Imanol Murua Uria, en declaració reclamada per la defensa, ha negat les acusacions de les acusacions particulars Dignitat i Justícia i l'Associació de Víctimes del Terrorisme (AVT). El periodista ha reconegut davant el jutge que va ser ell qui va proposar el nom de Martxelo Otamendi a Joan Mari Torrealdai, president del Consell d'Administració de Egunkaria, S.A., en 1993. Otamendi va ser nomenat director del diari en euskara al juny d'aquell mateix any, posat en el qual es va mantenir fins al dia que, ordenada pel jutge Juan del Olmo es va produir la clausura del diari, el 20 de febrer del 2003. D'altra banda, Iñaki Zabaleta, catedràtic de la Universitat del País Basc, ha recordat que va ser el Partido Socialista Vasco qui va trencar la primera fase de freda relació entre el diari en euskara i el Govern Basc, llavors liderat pel Partit Nacionalista Basc. A més, ha negat que ETA hagués tingut cap tipus de relació amb Egunkaria.
Murua Uria i Zabaleta han estat els primers testimonis de la defensa que han prestat declaració. Prèviament han tingut la paraula els últims testimonis de l'acusació popular; entre ells, Txomin Aizpurua, antic membre d'ETA i ex pres, qui ha assegurat no tenir coneixement de cap informe sobre la creació del diari Egunkaria. Segons l'acusació, a Aizpurua li van ser requisats documents sobre el diari. Egunkaria va ser creat en 1990, i un any després es va produir la detenció de Aizpurua.
També han declarat, a petició de l'acusació popular, dos guàrdies civils que van participar en la detenció de Otamendi i Txema Auzmendi. El primer d'ells, que va participar en la detenció del director del diari, ha assegurat no recordar l'ocorregut, i han hagut de mostrar-se-li actes de la detenció perquè ho reconegués. Primer ha preguntat qui es Otamendi, i posteriorment ha afirmat que se li van trobar varis Zutabe-s (butlletins interns d'ETA) en el registre, però no recordava on.
Al final de la sessió, el jutge Javier Gómez Bermúdez ha ajornat la vista fins al dimecres, amb motiu de la defunció de la mare d'un dels advocats de l'acusació. Per tant, el dimecres, després de la declaració dels últims testimonis de la defensa, comencessin a declarar els perits. Serà la cinquena jornada del judici a Egunkaria.
És probable que l'acusació i la defensa realitzin les seves peticions a la fi de febrer.Per altra banda, dissabte passat, els imputats del cas Egunkaria van rebre el suport d'una àmplia part de la societat basca en el santuari d'Arantzazu (Oñati, Gipuzkoa).
—-
Contact: egunkaria.press@gmail.com