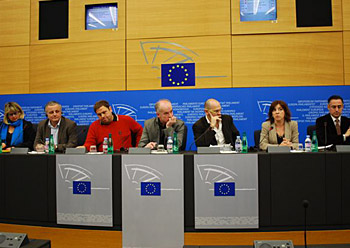 Lista de firmantes / List of signatures / Liste des signataires / Llista de signants 
Declaración / Déclaration / Statement / Declaració
—-
Veinticinco miembros del Parlamento Europeo han pedido la absolución de todos los imputados
10 de febrero de 2010
Veinticinco diputados del Parlamento Europeo han denunciado el caso Egunkaria en Estrasburgo (Francia), mediante la firma de una declaración de apoyo. Han pedido la absolución de los cinco antiguos miembros de la dirección, ya que creen que ese sería el único veredicto justo posible, además del archivo de la causa económica y la compensación de todos los daños causados a los imputados. En 2005, 22 eurodiputados solicitaron la suspensión del cierre de Egunkaria y el respeto a los derechos de libertad de expresión e información.  
Los eurodiputados firmantes forman parte de cuatro grupos políticos: el Grupo de la Alianza de los Liberales y Demócratas por Europa (ALDE), el Grupo de los Verdes-Alianza Libre Europea (Verdes-ALE), el Grupo Confederal de la Izquierda Unitaria Europea-Izquierda Verde Nórdica (GUE-NGL) y el Grupo del Partido Popular Europeo (EPP). Algunos de ellos han estado presentes en la rueda de prensa que se ha celebrado hoy, junto con Martxelo Otamendi, antiguo director de Egunkaria, que es a su vez uno de los procesados. Estos son los mencionados eurodiputados: Izaskun Bilbao (ALDE), Ramon Tremosa (ALDE), Oriol Junqueras (Verdes-ALE), François Alfonsi (Verdes-ALE), Catherine Grèze (Verdes-ALE) y Raul Romeva (Verdes-ALE). Han asistido alrededor de 15 periodistas.     
"La libertad y el pluralismo de los medios de comunicación deben ser respetados", han manifestado en la declaración. Además, han recordado las denuncias de torturas presentadas por algunos de los acusados. "Debemos remarcar el informe emitido por el relator especial sobre la tortura de las Naciones Unidas Theo van Boven en marzo del 2004, quien después de visitar el Estado español para analizar la situación de los derechos humanos en ese país concluyó que las denuncias de torturas hechas por los acusados en el caso Egunkaria era consistentes y pidió al Gobierno de España que tomara medidas para prevenir la tortura".
– Fuertes críticas al Estado español
La eurodiputada Izaskun Bilbao (Partido Nacionalista Vasco) ha declarado que el caso Egunkaria no tiene ninguna base y ha añadido que hay que recuperar el honor de los acusados. "Esto no debía haber sucedido nunca", ha manifestado Bilbao. Por su parte, Ramón Tremosa ha denunciado que el cierre del diario fue una violación de derechos. Además, ha subrayado que el estado que actualmente ocupa la presidencia de la Unión Europea [España] cierra diarios. "Debemos reaccionar claramente en contra de ello", ha añadido Tremosa. Oriol Junqueras, al igual que los demás eurodiputados, ha remarcado que la única solución posible es la absolución. "Toda la clase política española sabe que el cierre de Egunkaria fue antidemocrático, pero ni el Partido Popular ni el Partido Socialista se atreven a denunciar esta injusticia que apoyaron en su momento. Es una vergüenza cerrar un periódico basándose en acusaciones sin ningún fundamento".
Alfonsi se ha mostrado crítico con el estado español. Según él, España tiene un problema con la democracia: "Viola sistemáticamente la libertad de expresión del pueblo vasco". Ha citado la Ley de Partidos y el cierre de Egunkaria como prueba de ello. 
Romeva ha expresado su respaldo absoluto a Otamendi y los demás acusados. Por otro lado, ha pedido "mayor coherencia" a la Unión Europea respecto a la protección de los derechos humanos. "Denuncia las violaciones cometidas fuera de la Unión, pero debería fijarse más en lo que pasa dentro de ella". 
Otamendi ha explicado el caso brevemente a los medios de comunicación: qué era Egunkaria, qué paso durante el cierre, las denuncias de torturas formuladas por muchos de los acusados, el apoyo recibido tanto en el País Vasco como fuera de él, ha dicho que los acusados consideran la absolución como único veredicto aceptable y que después de conseguirla pedirán justicia… 
El juicio por la causa del cierre terminó el 1 de febrero y los acusados están a la espera del veredicto. Tanto la defensa como el fiscal han pedido la absolución. Sin embargo, la acusación popular, representada por las organizaciones Asociación de Víctimas del Terrorismo y Dignidad y Justicia han pedido penas de cárcel de 12-14 años. 
– Diversas iniciativas de apoyo
Al comienzo del primer juicio del caso Egunkaria, el 15 de diciembre de 2009, tres miembros del grupo Verdes-ALE del Parlamento Europeo manifestaron su apoyo a los acusados, mediante una nota de prensa: François Alfonsi, Catherine Grèze y José Bové. Según expresaron en dicha nota, consideraban que el caso Egunkaria era "una ofensa contra el pueblo vasco y su cultura". Al mismo tiempo, manifestaron su total apoyo a los acusados.  
Por otro lado, el 18 de enero de 2010, la eurodiputada Izaskun Bilbao ofreció un discurso de un minuto en el Parlamento Europeo. Recordó el cierre del diario y las denuncias de torturas, subrayó que el fiscal pidió el archivo del caso y denunció que el juicio hubiera comenzado casi siete años después del cierre de Egunkaria. Según dijo Bilbao, este caso es una prueba de que en Europa la justicia comete graves errores. 
—-
Vingt-cinq euro députés ont demandé l'acquittement dans le procès 'Egunkaria'
10 janvier 2010
Vingt-cinq eurodéputés du Parlement Européen ont dénoncé aujourd'hui à Strasbourg le procès intenté contre le journal Egunkaria. Ils ont demandé l'acquittement, estimant que ce serait «le délibéré le plus juste». Dans une déclaration commune, ils ont réclamé le blanchiment des cinq anciens membres de la direction du journal. Ils ont aussi réclamé le classement de la seconde affaire du journal. En effet, le procès économique du journal n'a pas encore commencé. Et pour finir ils dit qui'il faudra verser les dommages et intérêt causés aux cinq accusés. En 2005, 22 députés avaient demandé de renoncer à la fermeture d'Egunkaria et de respecter la liberté d'expression et d'information.
Les députés qui ont signé le communiqué font parti de quatre groupes parlementaires: 
L'Alliance des démocrates et des libéraux pour l'Europe (ALDE), le groupe Les verts et l'Alliance libre européenne (Les Verts-ALE), le groupe confédéral de la Gauche Unitaire Européenne – Gauche Verte Nordique (GUE-NGL) et le Parti Populaire Européen (EEP).
Certains d'entre eux ont donné la conférence de presse à midi au sein du parlement, en compagnie de l'accusé Martxelo Otamendi. Parmi eux, Izaskun Bilbao (ALDE), Ramon Tremosa (ALDE), Oriol Junqueras (Les Verts-ALE), François Alfonsi (Les Verts-ALE), Catherine Greze (Les Verts-ALE) et Raul Romeva (Les Verts-ALE). Une quinzaine de journalistes ont assisté à la conférence. 
Les eurodéputés ont réaffirmé qu'il faut «respecter la liberté et la pluralité des médias de communication». Ils ont aussi évoqué la dénonciation des tortures subit par les accusés du procès d'Egunkaria: « Il nous faut rappeler le rapport de 2004 de Theo van Boven, rapporteur spécial des Nations Unies sur la question de la torture. Après avoir visité l'Espagne pour y enquêter sur la situation des droits de l'homme, il avait conclu que les accusations de tortures des membres de la direction d'Egunkaria étaient fondées. Il avait demandé au gouvernement espagnol de prendre des mesures de préventions contre la torture ».
– Lourdes critiques contre le gouvernement espagnol 
Izaskun Bilbao (membre du Parti Nationaliste Basque) a dénoncé que le procès intenté contre Egunkaria «n'a pas de fondement » et qu'il faut « recouvré son honneur ». Ce procès n'aurait « jamais dû avoir lieu ». Pour Tremosa la fermeture du journal « viol le droit ». Il a aussi souligné que l'Etat qui à la présidence actuelle de l'Europe [l'Espagne] est un état qui ferme les journaux. « Il faut donner une réponse solide », a rajouté l'euro député. Junqueras a comme les autres réitéré le fait que « la seule sortie possible est l'acquittement ». « Toute la classe politique espagnole sait que la fermeture du journal Egunkaria a été antidémocratique. Mais, ni le Parti Populaire, ni les socialistes n'ont le courage de dénoncé l'injustice protégé autrefois. Il est honteux de fermer un journal sur des accusations infondés », a dit-il. 
Alfonsi à mise en exergue le jeu de l'État espagnol : « L'Espagne a un problème avec la démocratie : elle viole systématiquement la liberté d'expression des basques». Il a pris comme exemple la loi des partis et la fermeture d'Egunkaria.
Romeva a affiché une solidarité totale envers Otamendi ainsi que les autres accusés. Il a demandé une plus grande cohérence à l'Union Européenne dans la défense des droits. « Elle dénonce le non respect des droits à l'extérieur mais elle devrait regarder de plus près sur son propre territoire».
Otamendi a résumé le procès aux médias présents . Ce qu'était Egunkaria, comment s'est déroulée la fermeture, le fait que beaucoup des personnes arrêtées ont dénoncé les tortures, la solidarité exprimée en Pays basque et ailleurs. Il a confirmé que les accusés demandent l'acquittement, et qu'ensuite ils demanderont la justice.
Le procès lié à la fermeture du journal s'est terminé le 1er février dernier. Ils sont maintenant en attente du délibéré. L'accusation représentée par AVT et Dignidad y Justicia demandent entre 12 et 14 ans de prison pour chacun des cinq accusés.
– Importante solidarité 
Le 15 décembre dernier lorsque le procès a débuté, Les députées François Alfonsi, Catherine Grèze et José Bové du groupe Verts/ALE ont exprimé leur entière solidarité au travers d'un communiqué. Ils ont dénoncé qu'il s'agit « non seulement d'une attaque contre la liberté d'expression et de la presse inacceptable, mais aussi d'un affront au peuple basque et à sa culture».
D'autre part, le 18 janvier, l'eurodéputé Izaskun Bilbao a effectué une prise de parole d'une minute au Parlement Européen. Elle a rappelé la fermeture du journal et la torture des dirigeants. Elle a aussi souligné que le procureur lui-même a demandé de classer l'affaire. Elle a aussi dénoncé que le procès a débuté 7 ans après la fermeture du journal. Pour elle c'est un signe qu'au sein même de l'Europe la justice fait de grosse erreurs.
—-
Twenty five members of the European Parliament have called for the acquittal of all the defendants
10 February 2010
Twenty five members of the European Parliament (MEPs) have condemned in Strasbourg (France) the Egunkaria case, by signing a statement in favour of the daily. They have called for the acquittal of the five former members of Egunkaria´s Board of Directors –as they think that this is the only fair verdict possible–, the dropping of the financial court case and compensation of all the damage inflicted on all the defendants. In 2005, 22 MEPs called for the suspension of the closing down of the Egunkaria daily and requested that the rights of freedom of speech and information be respected. 
The MEPs that signed the statement are representatives of four political groups: the Group of the Alliance of Liberals and Democrats for Europe (ALDE), the Group of the Greens-European Free Alliance (Greens-EFA), the Confederal Group of the European United Left-Nordic Green Left (GUE-NGL) and the Group of the European People's Party. Some of them took part in a press conference today, together with Martxelo Otamendi, the former Editor-in -Chief of Egunkaria and one of the defendants. The following MEPs attended the conference: Izaskun Bilbao (ALDE), Ramon Tremosa (ALDE), Oriol Junqueras (Greens-EFA), François Alfonsi (Greens-EFA), Catherine Greze (Greens-EFA) and Raul Romeva (Greens-EFA). About 15 journalists attended the conference.
"The freedom and pluralism of the media shall be respected", they claimed in the statement. They also mentioned the torture claims made by some of the defendants. "We have to emphasize the report written in March 2004 by Theo van Boven, the UN Special Rapporteur on Torture.  After visiting Spain to monitor the human rights situation in that country, he concluded that the torture claims made by the defendants in the Egunkaria case were consistent, and requested the Spanish Government to take measures to prevent torture".  
– Strong criticism of the Spanish State
The MEP Izaskun Bilbao (Basque Nationalist Party) said that the Egunkaria case is "baseless" and added that the honour of the defendants should be restored. "This case should never have happened". Tremosa claimed that the closing down was a "violation of rights" and pointed out that the State that currently runs the European Union presidency [Spain] is one that closes down daily newspapers. "We must react strongly against it", he said. The MEP Oriol Junqueras pointed out that the acquittal of the defendants is the only solution, as did the other MEPs. "The whole Spanish political class knows that the closing down of Egunkaria was undemocratic, but neither the Popular Party nor the Socialist Party have had the courage to condemn this offence which they backed at that time. It is shameful to close down a newspaper basing the decision on inconsistent accusations".
Alfonsi criticized the position of the Spanish state. According to him, Spain has a problem with democracy: "It systematically violates the freedom of speech of the Basque people". He cited the Law of Political Parties and the closing down of Egunkaria as examples of that.
Romeva gave Otamendi and the other defendants his full backing and asked the European Union to display "clearer coherence" on the defence of the rights. "It condemns offences that take place abroad, but it should take more notice of the situation inside the European Union".   
Otamendi briefly explained the case to the media: what Egunkaria was, what happened during the closing down, the torture complaints of many of the defendants, the support received from the Basque Country and many other countries; he said that acquittal is the only acceptable verdict for the defendants and that after that, they will ask for justice.    
The trial in the closing down case of Egunkaria finished last 1 February and the defendants are waiting for the verdict. The Defence Counsel and the Public Prosecutor have called for their acquittal, but the Private Prosecution represented by the Association of Victims of Terrorism and Dignity and Justice has requested penalties of 12-14 years of prison.
 – Many initiatives of support
When the trial in the Egunkaria process began, on December 15 2009, three members of the Greens-EFA group expressed their support of the defendants in a press statement: François Alfonsi, Catherine Grèze and José Bové. They stated that the Egunkaria case was "an insult to the Basque people and their culture". Besides, they showed their full backing of the defendants.  
On the other hand, on 18 January 2010, the MEP Izaskun Bilbao gave a minute-long speech in the European Parliament. She reminded the closing down of the daily, and the torture complaints; she pointed out that the Public Prosecutor had called for the case to be dropped and condemned the fact that the trial had started almost seven years after the closing down. She said that this case shows that serious mistakes are committed in Europe. 
—-
Vint-i-cinc membres del Parlament Europeu han demanat l'absolució de tots els imputats
10 de febrer de 2010
Vint-i-cinc diputats del Parlament Europeu han denunciat el cas Egunkaria a Estrasburg (França), mitjançant la signatura d'una declaració de suport. Han demanat l'absolució dels cinc antics membres de l'adreça, ja que creuen que aquest seria l'únic veredicte just possible, a més de l'arxiu de la causa econòmica i la compensació de tots els danys causats als imputats. En 2005, 22 eurodiputatts van sol·licitar la suspensió del tancament d´Egunkaria i el respecte als drets de llibertat d'expressió i informació. 
Els eurodiputatts signants formen part de quatre grups polítics: el Grup de l'Aliança dels Liberals i Demòcrates per Europa (ALDE), el Grup dels Verds-Aliança Lliure Europea (Verds-ALE), el Grup Confederal de l'Esquerra Unitària Europea-Esquerra Verd Nòrdica (GUE-NGL) i el Grup del Partit Popular Europeu (*EPP). Alguns d'ells han estat presents en la roda de premsa que s'ha celebrat avui, juntament amb Martxelo Otamendi antic director d´Egunkaria que és al seu torn un dels processats. Aquests són els esmentats eurodiputatts: Izaskun Bilbao (ALDE), Ramon Tremosa (ALDE), Oriol Junqueras (Verds-ALE), François Alfonsi (Verds-ALE), Catherine Grèze (Verds-ALE) i Raul Romeva (Verds-ALE). Han assistit al voltant de 15 periodistes.
"La llibertat i el pluralisme dels mitjans de comunicació han de ser respectats", han manifestat en la declaració. A més, han recordat les denúncies de tortures presentades per alguns dels acusats. "Hem de remarcar l'informe emès pel relator especial sobre la tortura de les Nacions Unides Theo van Boven al març del 2004, qui després de visitar l'Estat espanyol per a analitzar la situació dels drets humans en aquest país va concloure que les denúncies de tortures fetes pels acusats en el cas Egunkaria, qui després de visitar l'Estat espanyol per a analitzar la situació dels drets humans en aquest país va concloure que les denúncies de tortures fetes pels acusats en el cas Egunkaria era consistents i va demanar al Govern d'Espanya que prengués amidades per a prevenir la tortura".
– Fortes crítiques a l'Estat espanyol 
L'eurodiputatda Izaskun Bilbao (Partit Nacionalista Basc) ha declarat que el cas Egunkaria no té cap base i ha afegit que cal recuperar l'honor dels acusats. "Això no havia d'haver succeït mai", ha manifestat Bilbao. Per la seva banda, Ramón Tremosa ha denunciat que el tancament del diari va ser una violació de drets. A més, ha subratllat que l'estat que actualment ocupa la presidència de la Unió Europea [Espanya] tanca diaris. "Hem de reaccionar clarament en contra d'això", ha afegit Tremosa. Oriol Junqueras, igual que els altres eurodiputatts, ha remarcat que l'única solució possible és l'absolució. "Tota la classe política espanyola sap que el tancament d´Egunkaria va ser antidemocràtic, però ni el Partit Popular ni el Partit Socialista s'atreveixen a denunciar aquesta injustícia que van recolzar en el seu moment. És una vergonya tancar un periòdic basant-se en acusacions sense cap fonament".
Alfonsi s'ha mostrat crític amb l'estat espanyol. Segons ell, Espanya té un problema amb la democràcia: "Viola sistemàticament la llibertat d'expressió del poble basc". Ha citat la Llei de Partits i el tancament d´Egunkaria com prova d'això.
Romeva ha expressat el seu respatller absolut a Otamendi i els altres acusats. D'altra banda, ha demanat "major coherència" a la Unió Europea respecte a la protecció dels drets humans. "Denuncia les violacions comeses fora de la Unión, però hauria de fixar-se més en el que passa dintre d'ella".
Otamendi ha explicat el cas breument als mitjans de comunicació: què era Egunkaria, quin pas durant el tancament, les denúncies de tortures formulades per molts dels acusats, el suport rebut tant al País Basc com fora d'ell, ha dit que els acusats consideren l'absolució com únic veredicte acceptable i que després d'aconseguir-la demanaran justícia…
El judici per la causa del tancament va acabar el 1 de febrer i els acusats estan a l'espera del veredicte. Tant la defensa com el fiscal han demanat l'absolució. No obstant això, l'acusació popular, representada per les organitzacions Associació de Víctimes del Terrorisme i Dignitat i Justícia han demanat penes de presó de 12-14 anys.
– Diverses iniciatives de suport 
Al començament del primer judici del cas Egunkaria, el 15 de desembre de 2009, tres membres del grup Verds-ALE del Parlament Europeu van manifestar el seu suport als acusats, mitjançant una nota de premsa: François Alfonsi, Catherine Grèze i José Bové. Segons van expressar en aquesta nota, consideraven que el cas Egunkaria era "una ofensa contra el poble basc i la seva cultura". Al mateix temps, van manifestar el seu total suport als acusats.
D'altra banda, el 18 de gener de 2010, l'eurodiputatda Izaskun Bilbao va oferir un discurs d'un minut en el Parlament Europeu. Va recordar el tancament del diari i les denúncies de tortures, va subratllar que el fiscal va demanar l'arxiu del cas i va denunciar que el judici hagués començat gairebé set anys després del tancament d´Egunkaria. Segons va dir Bilbao, aquest cas és una prova que a Europa la justícia comet greus errors.