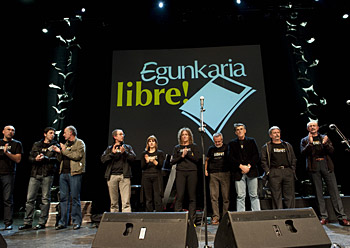 Los cinco acusados han convocado una manifestación para el 19 de diciembre
28 de noviembre de 2009
Los cinco acusados en la causa del cierre de Egunkaria han convocado una manifestación en Bilbao para el día 19 de diciembre próximo (sábado), es decir, cuatro días después del inicio del juicio.
Los imputados han pedido apoyo a los ciudadanos para reivindicar la absolución: "Queremos pediros que nos ayudéis a pedir la absolución, a pesar de saber que eso no sería justo del todo. La justicia, además de la absolución, reclama no sólo reparación sino también sentar a los culpables del ataque contra nosotros en el banquillo y imponerles un castigo. Pero, ¿quién va a repararnos, a nosotros y nuestras familias, el sufrimiento que hemos padecido estos siete años?". 
Por otro lado, han denunciado la tesis policial en la que se basa el juicio. "La tesis policial es completamente capciosa, ya que considera que todo el trabajo que se realiza fuera de las instituciones oficiales está al servicio de ETA. Condenarnos a nosotros puede convertir esta tesis policial en doctrina jurídica".   
Para finalizar, los acusados han señalado que hay varias formas de ayudarlos: aliviando los gastos del juicio, mostrándoles solidaridad o denunciando la injusticia que se está cometiendo. 
—–
Les accusés ont appelé à manifester le 19 décembre contre le procès 'Egunkaria' 
Le 28 novembre 2009
Contre le procès fait au quotidien Egunkaria et en solidarité aux accusés, manifestation le 19 décembre (samedi), à Bilbao ; Soit 4 jours après le début du procès. 
Les accusés ont appelé à une manifestation massive pour réclamer le classement sans suite du procès : "Nous vous demandons de vous unir à nous afin de demander le classement de l'affaire, tout en sachant pertinemment que même ainsi justice ne sera pas rendue. Car la justice exige aussi que réparation soit faite. Que nos accusateurs se retrouvent au banc des accusés et qu'ils soient condamnés. Comment réparer les sept ans de souffrance que nous a infligé ce procès, à nous et à nos familles?». 
Ils ont dénoncé la thèse policière de l'accusation, en jugeant qu'elle était «  trompeuse, car elle dit que le travail des défenseurs de la langue basque est au service de l'ETA. Notre condamnation ferait de cette thèse une doctrine juridique». 
Pour finir, les accusés ont précisé qu'il y a de nombreuses façons de les soutenir, en affichant sa solidarité envers eux, en dénonçant cet abus, mais aussi en les aidant financièrement à faire face aux frais du procès.
—–
The defendants call for a demonstration in Bilbao on 19 December
28 November 2009
The five defendants of the closing down case of Egunkaria have called for a demonstration in Bilbao on 19 December 2009 (Saturday), exactly four days after the beginning of the trial against them. 
The defendants asked the public to support their demand for an acquittal. "We would like your support in our demand for an acquittal, even if we know that this is not completely fair. Justice should acquit and compensate us, as well as put on trial those responsible for the attack on us and punish them. But who will make up for what we and our families have been suffering  for the last seven years?"   
Besides, the defendants dismissed the theory of the Police. "The theory of the Police is very crafty: it considers the job of every organization working for the Basque language independently from the official institutions to be in favour of ETA. If we are convicted, the theory of the Police could turn into a legal precedent". 
At the end, the defendants pointed out that there are different ways to support them: by helping them to pay the trial expenses, expressing support or denouncing the injustice.
—–
Els cinc acusats han convocat una manifestació per al 19 de desembre
28 de novembre de 2009
Els cinc acusats en la causa del tancament de Egunkaria han convocat una manifestació a Bilbao per al dia 19 de desembre pròxim (dissabte), és a dir, quatre dies després de l'inici del judici.
Els imputats han demanat suport als ciutadans per a reivindicar l'absolució: "Volem demanar-vos que ens ajudeu a demanar l'absolució, a pesar de saber que això no seria just del tot. La justícia, a més de l'absolució, reclama no només reparació sinó també asseure als culpables de l'atac contra nosaltres en la banqueta i imposar-los un càstig. Però, qui va a reparar-nos, a nosaltres i les nostres famílies, el sofriment que hem patit aquests set anys?".
D'altra banda, han denunciat la tesi policial en la qual es basa el judici. "La tesi policial el completament malintencionada, ja que considera que tot el treball que es realitza fora de les institucions oficials està al servei d'ETA. Condemnar-nos a nosaltres pot convertir aquesta tesi policial en doctrina jurídica". 
Per a finalitzar, els acusats han assenyalat que hi ha diverses formes d'ajudar-los: alleujant les despeses del judici, mostrant-los solidaritat o denunciant la injustícia que s'està cometent.