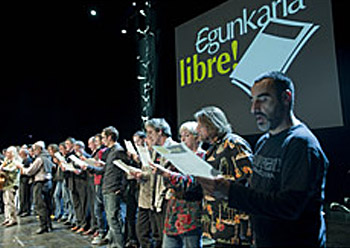 Fotos / Photographies / Photos / Fotografies

Preocupados, pero cantando vigorosamente
29 de noviembre de 2009
Cerca de 2.000 personas mostraron ayer su solidaridad con los acusados del caso Egunkaria cantando, en el concierto que se celebró en el Palacio de Congresos Kursaal de San Sebastián. Cantando y con buen humor, pero sin esconder la preocupación por el caso.
Aunque el mensaje principal del acto fue en favor de Egunkaria, no fue el único. Nekane Peñagarikano, una de las presentadoras del concierto, envió un mensaje de solidaridad a todas las personas que están viviendo situaciones similares a la de los imputados en el caso Egunkaria y el público respondió con una fuerte ovación. Después, Joan Mari Torrealdai leyó un mensaje en nombre de los acusados y manifestó su apoyo a las personas detenidas durante la semana y él recibió también una cálida ovación del público. 
De todas formas, la mayoría de los aplausos fueron para los acusados del caso Egunkaria. Cuando todos los acusados de la causa del cierre y la causa económica de Egunkaria subieron al escenario, hubo una explosión de aplausos en el Kursaal. Aplausos, aplausos y más aplausos. Todos alzaron sus pancartas con el lema "Egunkaria libre!". Los acusados reaccionaron aplaudiendo de igual manera. 
—–
Inquiets mais fortifiés par le chant
Le 29 novembre 2009
Près de 2.000 personnes se sont rassemblées samedi soir au Kursaal de Saint Sébastien en solidarité avec les accusés. Un panel représentatif de la chanson basque actuelle a défilé sur scène, parmi lesquels Anari, Pantxoa et Peio, Urko, Erramun Martikorena, Jean Mixel Bedaxagar, Oskorri, Anje Duhalde, Niko Etxart, Mikel Urdangarin, Josu Zabala, Alex Sardui, Ken Zazpi, Rafa Rueda, Gorka Urbizu, Txomin Artola ou encore Amaia Zubiria. Osmose avec le public, union dans le chant, et si la bonne humeur était de mise, personne ne cachait son inquiétude face au procès.
Le message en faveur de Egunkaria a beaucoup touché, mais il n'a pas été le seul. Lorsque l'une des présentatrice de la soirée, Nekane Peñagarikano, a transmis son soutien à tous ceux qui vivent ou qui ont vécu une situation similaire, le public lui a répondu avec des applaudissements chaleureux. Et lorsque Joan Mari Torrealdai a pris la parole au nom des accusés, il a souligné également sa solidarité avec les personnes arrêtées cette semaine, 35 jeunes accusés, en tant que membres du mouvement de jeune Segi, d'appartenir à l'ETA. Là encore, le public a réservé un standing ovation.
Les plus applaudis auront été les accusés d'Egunkaria. Ceux dont le procès commence le 15 décembre ainsi que ceux qui sont accusés dans le dossier du procès économique. Parmi le public, certains brandissaient une pancarte indiquant «Egunkaria libre!», pendant que d'autres ont soutenu des applaudissements interminables. Les accusés ont fait de même.
—–
Worried, but singing lustily
29 November 2009
Yesterday, almost 2,000 people sang as an expression of their solidarity with the five defendants in the closing down case of Egunkaria at the Kursaal Congress Center in San Sebastian. Singing in a good mood, but showing their concern about the case, too. 
The main message of the cultural event was in support of Egunkaria, but it was not the only one. One of the presenters of the concert, Nekane Peñagarikano, expressed her support for all the people who have experienced and are currently experiencing situations similar to those in the case against Egunkaria and the audience reacted by cheering her wildly. After that, Joan Mari Torrealdai, while reading out a manifesto on behalf of the five defendants, expressed sympathy to the people arrested during the week, and the audience cheered wildly again. 
Nevertheless, most of the clapping was for the defendants. When all the defendants, both in the closing down case and the financial case walked onto the stage, the Kursaal Center burst into applause. The audience clapped for a long time. They displayed a banner calling for a free Egunkaria (Egunkaria libre!) as well. The defendants reacted in the same way.   
——
Preocupats, però cantant vigorosament
29 de novembre de 2009
Prop de 2.000 persones van mostrar ahir la seva solidaritat amb els acusats del cas Egunkaria cantant, en el concert que es va celebrar en el Palau de Congressos Kursaal de Sant Sebastià. Cantant i amb bon humor, però sense amagar la preocupació pel cas.
Encara que el missatge principal de l'acte va anar en favor de Egunkaria, no va ser l'únic. Nekane Peñagarikano, una de les presentadores del concert, va enviar un missatge de solidaritat a totes les persones que estan vivint situacions similars a la dels imputats en el cas Egunkaria i el públic va respondre amb una forta ovació. Després, Joan Mari Torrealdai va llegir un missatge en nom dels acusats i va manifestar el seu suport a les persones detingudes durant la setmana i ell va rebre també una càlida ovació del públic. 
De totes maneres, la majoria dels aplaudiments van ser per als acusats del cas Egunkaria. Quan tots els acusats de la causa del tancament i la causa econòmica de Egunkaria van pujar a l'escenari, va haver una explosió d'aplaudiments en el Kursaal. Aplaudiments, aplaudiments i més aplaudiments. Tots van alçar les seves pancartes amb el lema "Egunkaria lliure!". Els acusats van reaccionar aplaudint d'igual manera.