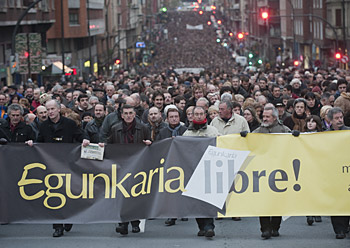 Manifestación masiva en Bilbao en apoyo a Egunkaria'
19 de diciembre de 2009
El País Vasco ha vuelto a demostrarle su apoyo a Egunkaria. Una inmensa oleada de gente se ha reunido en Bilbao, en la manifestación que ha comenzado a las 17:00, bajo el lema Egunkaria libre! Los imputados en la causa del cierre de Egunkaria Joan Mari Torrealdai, Iñaki Uria, Txema Auzmendi, Martxelo Otamendi y Xabier Oleaga portaban la pancarta, así como varios de los imputados en la causa económica.
El que fuera presidente del Consejo de Administración de Egunkaria, S.A. Joan Mari Torrealdai, sobre el que pende una condena de 14 años de cárcel y 15 años de inhabilitación, ha hablado en nombre de los imputados. "Aquí estamos todos. Egunkaria nos une. Este pueblo tiene que unirse", ha dicho en alusión a las divergencias habituales entre la población vasca y, a continuación, ha agradecido el apoyo ciudadano.
Según los imputados el cierre de Egunkaria que se produjo el 20 de febrero de 2003 fue un ataque contra la lengua vasca. "Además de un ataque contra la lengua, fue un ataque contra todos los vascos; atacaron al único periódico en el mundo que se publicaba en lengua vasca (…) Por eso dijo la ciudadanía "¡ya basta!" hace siete años. Y también lo dice ahora, igual que entonces".
Torrealdai ha pedido la absolución de todos los imputados: "La absolución es la única manera de empezar a corregir la injusticia y el agravio cometidos".
– Participación de numerosos representantes
Entre los numerosos representantes de la sociedad vasca se han reunido en Bilbao tres antiguos presidentes de la Comunidad Autónoma Vasca como son Juan José Ibarretxe, José Antonio Ardanza y Carlos Garaikoetxea, además de dirigentes de numerosos partidos políticos (Partido Nacionalista Vasco, izquierda abertzale, Eusko Alkartasuna, Aralar, Izquierda Unida-Ezker Batua, Hamaikabat, Abertzaleen Batasuna y Alternatiba), de sindicatos (ELA, LAB, CCOO, ESK, el sindicato del ámbito educativo EILAS, el sindicato agrario EHNE y el sindicato de transportistas Hiru), de la asociación por la paz Lokarri. También han estado presentes representantes de la cultura, de los medios de comunicación y de las asociaciones a favor de la lengua vasca: asociación para integrar el patrimonio bertsolarístico en la sociedad, el grupo comunicación en lengua vasca (EKT), la asociación de ikastolas (centros de enseñanza en lengua vasca), la coordinadora para la enseñanza de la lengua vasca AEK, el observatorio de la lengua vasca, el Pen Club vasco, escritores, músicos, periodistas, actores…
—-
Une manifestation d'ampleur pour le journal Egunkaria
Décembre 19, 2009
Le Pays basque a réitéré son soutien au journal Egunkaria. Un soutien intense et pluriel. Une manifestation d'ampleur qui s'est étendue sur presque toute la longueur de l'avenue principale de Bilbao. Les cinq accusés du procès lié à la fermeture d' Egunkaria, Joan Mari Torrealdai, Iñaki Uria, Txema Auzmendi, Martxelo Otamendi et Xabier Oleaga, marchaient en tête de cortège, aux cotés des autres personnes accusés dans le procès économique qui suivra.
"Nous sommes tous ici réunis autour d' Egunkaria", a déclaré Torrealdai lors d'une prise de parole à la fin de la manifestation, en faisant allusion aux divergences habituelles au sein de la population. Il a été président du conseil d'administration d'Egunkaria SA. Il encoure 14 ans de prison et 15 ans d'inhabilité à occuper une fonction publique et inéligibilité. "Ce peuple a besoin de se reunir", a-t-il ajouté, avant de remercier les manifestants de s'être déplacés.
Il a affirmé que c'est la langue basque qu'ils avaient attaqué le 20 février 2003, le jour de la fermeture du journal : "En attaquant la langue basque ce sont les basques qu'on attaque. On a fermé le seul quotidien en langue basque au monde. Voilà pourquoi la société basque répond depuis 7 ans: 'Ça suffit!'.
Les accusés demandent de classer le dossier: "C'est la seule alternative qui permettra de rétablir cette injustice et cette offense".
– Des personnalités présentes à la manifestation
Parmis les acteurs politiques et les représentants syndicaux, sont venus à la manifestations, Juan Jose Ibarretxe, Jose Antonio Ardanza et Carlos Garaikoetxea, les anciens présidents de la communauté autonome basque ainsi que beaucoup de chefs de partis, dont le PNV, la gauche abertzale, Eusko Alkartasuna, Aralar, Ezker Batua, Hamaikabat, Abertzaleen Batasuna, Alternatiba et les responsables syndicals ELA, LAB, CCOO, ESK, EILAS et des organismes tel que Lokarri. De nombreux acteurs du monde culturel et de la communication étaient aussi présent: des musiciens, écrivains, chanteurs, acteurs, comédiens, le Pen club basque, Bertsozale Elkartea, EKT, Ikastolen Konfederazioa (les ecoles basques), AEK…
—-
Masses of people attend rally in support of Egunkaria in Bilbao
19 December 2009
The Basque Country has again shown its support for Egunkaria, through a mass rally called in Bilbao. The demonstration started at 17:00, with the slogan Egunkaria Libre! (Egunkaria free). The five defendants in the case on the closing down of Egunkaria –Joan Mari Torrealdai, Iñaki Uria, Txema Auzmendi, Martxelo Otamendi and Xabier Oleaga–, plus the other defendants in the economic case, were holding the banner. They received the strong support of numerous representatives of the public.
Torrealdai, who was the Chairman of Egunkaria's Board of Directors and is facing a prison sentence of 14 years and 15 years' ban on holding public office or another position, as well as a ban on standing in political elections, spoke on behalf of all the defendants. "Here we are all of us. Egunkaria brings us together. The people of this country must unite", he said, expressing his appreciation of the public support.
According to the defendants, the Basque language was targeted on 20 February 2003, when the closing down of Egunkaria was ordered. "At the same time, we Basques were targeted; the only Basque-language newspaper in the world was raided (…) That's why the Basque public said 'This is enough!' seven years ago. And now it has done the same".
Torrealdai has called for an acquittal in the trial: "An acquittal is the only option in order to start to rectify this injustice and offense".
– Many representatives at the demonstration
Many representatives converged on Bilbao: the former presidents of the Basque Autonomous Region Juan José Ibarretxe, José Antonio Ardanza and Carlos Garaikoetxea, leading members of several political parties (the Basque Nationalist Party, the pro-independence left movement, Eusko Alkartasuna, Aralar, Ezker Batua, Hamaikabat, Abertzaleen Batasuna and Alternatiba), leaders of several trade unions (ELA, LAB, CCOO, ESK, the teachers union EILAS, the farmers union EHNE and the hauliers union Hiru) and leaders of the pacifist association Lokarri. Apart from them, many representatives of the culture, media and Basque language associations took part: the association of the friends of bertsolaritza [extempore Basque verse making], the Basque-language Communications Group (EKT), the Confederation of Ikastolas [Basque-medium schools], the association for learning the Basque language AEK, the Observatory of the Basque Language, the Basque Pen Club, writers, musicians, journalists, actors…
—-
Manifestació massiva a Bilbao en suport a Egunkaria
19 de desembre de 2009
El País Basc ha tornat a demostrar-li el seu suport a Egunkaria. Una immensa onada de gent s'ha reunit a Bilbao, en la manifestació que ha començat a les 17:00, sota el lema Egunkaria lliure! Els imputats en la causa del tancament de Egunkaria Joan Mari Torrealdai, Iñaki Uria, Txema Auzmendi, Martxelo Otamendi i Xabier Oleaga portaven la pancarta, així com diversos dels imputats en la causa econòmica.
Joan Mari Torrealdai, president del Consell d'Administració de Egunkaria, S. A., sobre el qual penja una condemna de 14 anys de presó i 15 anys d'inhabilitació, ha parlat en nom dels imputats. "Aquí estem tots. Egunkaria ens uneix. Aquest poble ha d'unir-se", ha dit en al·lusió a les divergències habituals entre la població basca i, a continuació, ha agraït el suport ciutadà.
Segons els imputats el tancament de Egunkaria que es va produir el 20 de febrer de 2003 va ser un atac contra la llengua basca. "A més d'un atac contra la llengua, va anar un atac contra tots els bascos; van atacar a l'únic periòdic en el món que es publicava en llengua basca (…) Per això va dir la ciutadania "ja basta!" fa set anys. I també ho diu ara, igual que llavors".
Torrealdai ha demanat l'absolució de tots els imputats: "L'absolució és l'única manera de començar a corregir la injustícia i el greuge comesos".
– Participació de nombrosos representants
Entre els nombrosos representants de la societat basca s'han reunit a Bilbao tres antics presidents de la Comunitat Autònoma Basca com són Juan José Ibarretxe, José Antonio Ardanza i Carlos Garaikoetxea, a més de dirigents de nombrosos partits polítics (Partit Nacionalista Basc, esquerra abertzale, Eusko Alkartasuna, Aralar, Esquerra Unida-Ezker Batua, Hamaikabat, Abertzaleen Batasuna i Alternativa), de sindicats (ELA, LAB, CCOO, ESK, el sindicat de l'àmbit educatiu EILAS, el sindicat agrari EHNE i el sindicat de transportistes Hiru), de l'associació per la pau Lokarri. També han estat presents representants de la cultura, dels mitjans de comunicació i de les associacions a favor de la llengua basca: associació per a integrar el patrimoni bertsolarístico en la societat, el grup comunicació en llengua basca (EKT), l'associació de ikastolas (centres d'ensenyament en llengua basca), la coordinadora per a l'ensenyament de la llengua basca AEK, l'observatori de la llengua basca, el Pen Club basc, escriptors, músics, periodistes, actors…