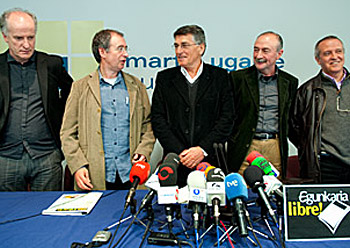 (Martxelo Otamendi, Iñaki Uria, Joan Mari Torrealdai, Xabier Oleaga y Txema Auzmendi, hoy)
"Gracias a la sociedad vasca, no han conseguido una sentencia que criminalice a los que trabajan a favor del euskara"
13 de abril de 2010
Los cinco procesados en el caso Egunkaria, Joan Mari Torrealdai, Iñaki Uria, Txema Auzmendi, Martxelo Otamendi y Xabier Oleaga, se han mostrado contentos en la rueda de prensa de esta mañana. Contentos, porque los han absuelto y, sobre todo, porque los agentes políticos (entre ellos, los que estaban en el Gobierno de España en 2003) no han conseguido criminalizar a los sectores sociales que trabajan a favor del euskara. Han subrayado que todo ha sido gracias al apoyo de la gran mayoría de la sociedad vasca, es decir, las personas, las instituciones, los organismos sociales, los sindicatos, los partidos políticos, los que trabajan a favor del euskara en general y los medios de comunicación; y, que gracias a ello ha quedado al descubierto la intención política que había detrás del caso. Por otro lado, la sociedad vasca ayudó a crear otro periódico en euskara de las cenizas de Egunkaria, y aquello fue "un gran logro". La sentencia, sin embargo, no es un gran triunfo, "como mucho se ha conseguido parar provisionalmente la rueda de la injusticia". Lo cierto es que los encausados han pasado siete años muy malos, la sentencia no es firme, la acusación puede recurrir, y queda pendiente el denominado "caso económico". Además, han añadido la siguiente pregunta: "Los culpables de esta situación están o estarán en el banquillo de los acusados?".
Los abogados no han acudido a la rueda de prensa, porque quieren estudiar la sentencia más a fondo. Todavía no han decidido si pedirán indemnizaciones. En cambio, en lo que se refiere al caso económico, sí que han tomado una decisión y es la de pedir que lo trasladen al Juzgado de Guipúzcoa. Lo harán los próximos días.
En todo caso, los encausados han subrayado que la sentencia es "muy importante" por dos razones: por un lado, porque ha dictado que el cierre fue ilícito; y por otro, porque admite que durante el período de incomunicación no hubo control suficiente por parte de los jueces. Antes de tener noticias sobre el veredicto, los encausados estaban preocupados, pero, según ellos, la absolución era de esperar. "La misma Fiscalía ha pedido la absolución, manteniendo la postura que había adoptado en 2006. Nuestros abogados hicieron un trabajo excelente. Las carencias y arbitrariedades de los peritos de la Guardia Civil han quedado en evidencia. No se pudieron negar las torturas y sus consecuencias".
Los encausados han expresado el deseo de que la sentencia tenga una influencia positiva en otros casos en los que la acusación se basa en los mismos principios. En concreto, han recordado a los procesados del caso Udalbiltza —Asamblea de Municipios y Electos Municipales del País Vasco—, y a los trabajadores del diario Egin, encausados en el sumario 18/98 que hoy en día se encuentran en la cárcel.
De nuevo han agradecido toda la ayuda recibida estos siete años, sobre todo a la sociedad vasca, a la catalana, que los ha apoyado como si fueran parte de Cataluña, y a los que en Madrid los han apoyado, "en contra de la corriente general".
Para agradecer la ayuda de la sociedad vasca, los procesados han convocado un gran acto para el próximo 25 de abril, a las 11:30 de la mañana, en el Palacio Euskalduna de Bilbao.
—
"Grâce au soutien de la société basque, ils n'ont pas obtenu un verdict leur permettant de criminaliser les acteurs oeuvrant pour la langue basque"
13 Avril 2010
Les cinq inculpés Joan Mari Torrealdai, Iñaki Uria, Txema Auzmendi, Martxelo Otamendi et Xabier Oleaga sont apparus heureux devant la presse ce matin. Heureux d'avoir été innocenté et surtout, heureux du fait que les dirigeants politiques (notamment ceux qui étaient à la tête de l'Espagne en 2003) n'est pas réussi à criminaliser ceux qui oeuvrent en faveur de la langue basque. Ils ont souligné que cette réussite a été rendu possible grâce au soutient de la société basque dans son ensemble, des individus aux institutions, en passant par les organismes sociaux, les syndicats, ceux qui travaillent en faveur de la langue basque, les partis politiques et les professionnels de la communication. Grâce à eux il est devenu manifeste qu'à l'origine de tout cela, ce trouvait une impultion politique.
C'est aussi la société basque qui a permis de faire naître des cendres de Egunkaria un autre journal qui reste "une énorme victoire", selon les anciens inculpés.
Par contre, ils ne voient pas le verdict comme une énorme victoire: "Il a à peine permis de freiner l'injustice, pour le moment". En effet, après que les inculpés aient passé sept dures années, le verdict peut être modifié. L'accusations peut faire appel et le procès économique n'a pas encore eu lieu. Aussi, les inculpés se questionnent: "Les inculpés vont-ils devoir rester sur le banc des accusés?".
Les avocats n´étaient pas présents car ils souhaitent analyser plus profondément le verdict. Il faut également qu´ils décident s´ils font une demande de dommages et intérêts. Par contre, en ce qui concerne le procès économique, ils ont décidé de demander qu´il se déroule au tribunal de la province de Guipuzcoa. La demande se fera dans les prochains jours.
Quoi qu´il en soit, les inculpés ont fait savoir que ce verdict est "très important". Ceci pour deux raisons: d´une part, car il a été jugé que la fermeture des médias est hors à la loi; d´autre part, car les juges ont reconnu n´avoir pas effectué un contrôle nécessaire du temps de garde à vue sous le régime de la mise au secret.
Avant de connaître le verdict, les inculpés avaient peur, certes, mais ils ont avoué que la relaxe "était attendue". Ils ont rajouté que même "le procureur avait depuis 2006 garder la même position en demandant la relaxe. Nos avocats ont fait un travail énorme. La carence et l´arbitrage des experts de la Garde Civile sont flagrants. La torture et ses conséquences sont indéniables".
Les accusés souhaitent que ce verdict ait un effet positif sur les autres procès basés sur des accusations semblables. Plus précisément, les accusés d´Udalbiltza [anciènne organisation politique des municipalités] qui doivent bientôt être jugés, les amis du journal Egin qui avaient été jugés au sein du dossier 18/98 et qui aujourd´hui encore sont emprisonnés et tous les autres.
Les inculpés ont remercié l´énorme soutient qu´ils ont eu durant ces sept ans, surtout celle de la société basque, catalane et de Madrid même, où les amis ont continué à avancer "contre le courant".
Les inculpés souhaitent remercier la société basque et le rendez-vous est fixé au 25 avril à 11:30, au Palais Euskalduna de Bilbao.
—
"Thanks to the Basque public, no verdict to criminalise the work in favour of Basque language has been achieved"
13 April, 2010
All the defendants –Joan Mari Torrealdai, Iñaki Uria, Txema Auzmendi, Martxelo Otamendi and Xabier Oleaga– appeared happy before the media this morning. Happy, because they had been acquitted and, more than anything, because the political movers (including the people in the Spanish Government in 2003) did not achieve a verdict to criminalize people working in favour of Basque language. The defendants pointed out that a verdict against them had been avoided thanks to the support given by the wider Basque public, including individuals, institutions, social organisations, trade unions, political parties, the whole community that works in favour of the Basque language and culture and the media professionals; thanks to them, the political pressure which led to this case has been exposed. Furthermore, the Basque public helped to launch a new Basque-language daily out of the ashes of Egunkaria, and according to the defendants, that had been a "major victory". On the contrary, they do not think that the verdict constitutes a major victory; it is, at the most, a temporary stopping of the wheels of injustice. In fact, the defendants have suffered seven very hard years, the verdict is not final, because the Private Prosecution can appeal against it, and the financial court case is still pending. They added the following question: "Are those who are guilty in the dock or on their way there?"
The defence lawyers did not attend the press conference, because they wanted to analyze the verdict in greater depth. They have not yet decided whether compensation will be sought. But with respect to the financial case, they have decided to request that it be transferred to the Court of Gipuzkoa and they expect to be doing this in the few next days.
However, the defendants said that the verdict was "very important" for two reasons: on the one hand, because it considered that the closing down of a mass medium is illegal and, on the other hand, because it acknowledged that during the period incommunicado the judges did not control the situation properly. Before they read the content of the verdict, the defendants were worried, but they said that they had been expecting to be cleared: "The Public Prosecutor, maintaining the same position since 2006, called for the case to be dropped. Our lawyers defended us admirably. The lack of consistency and the arbitrariness of the expert witnesses of Guardia Civil [Police] was obvious. Torture and its consequences have become impossible to deny".
The defendants hope that this verdict will have a positive impact on the cases that have a similar basis for prosecution. Specifically, they mentioned the members of Udalbiltza [a former political organization of municipalities] scheduled to be tried soon, as well as former members ofEgin newspaper who are currently in prison, and other people facing similar charges or who have already been sent down on similar grounds.
The defendants once again expressed gratitude for the great support they received over the last seven years, in particular to the Basque public, the Catalan public, which has supported them as if they were Catalans themselves, and friends from Madrid who have worked in support of them, even if they were swimming against the tide completely.
To show their gratitude to the Basque public, they have organised a major event. It will take place on 25 April, at the Euskalduna Palace located in Bilbao, at 11.30 in the morning.
—
"Gràcies a la societat basca, no han aconseguit una sentència que criminalitzi als quals treballen a favor del euskera"
13 d'abril de 2010
Els cinc processats en el cas Egunkaria, Joan Mari Torrealdai, Iñaki Uria, Txema Auzmendi, Martxelo Otamendi i Xabier Oleaga, s'han mostrat contents en la roda de premsa d'aquest matí. Contents, perquè els han absolt i, sobretot, perquè els agents polítics (entre ells, els quals estaven en el Govern d'Espanya en 2003) no han aconseguit criminalitzar als sectors socials que treballen a favor de l'euskara. Han subratllat que tot ha estat gràcies al suport de la gran majoria de la societat basca, és a dir, les persones, les institucions, els organismes socials, els sindicats, els partits polítics, els quals treballen a favor de l'euskara en general i els mitjans de comunicació; i, que gràcies a això ha quedat al descobert la intenció política que havia darrere del cas. D'altra banda, la societat basca va ajudar a crear altre periòdic en euskara de les cendres deEgunkaria, i allò va ser "un gran assoliment". La sentència, no obstant això, no és un gran triomf, "com a molt s'ha aconseguit parar provisionalment la roda de la injustícia". La veritat és que els encausats han passat set anys molt dolents, la sentència no és ferma, l'acusació pot recórrer, i queda pendent el denominat "cas econòmic". A més, han afegit la següent pregunta: "Els culpables d'aquesta situació estan o estaran en el banc dels acusats?".
Els advocats no han acudit a la roda de premsa, perquè volen estudiar la sentència més a fons. Encara no han decidit si demanaran indemnitzacions. En canvi, pel que fa al cas econòmic, sí que han pres una decisió i és la de demanar que ho traslladin al Jutjat de Guipúzcoa. Ho faran els pròxims dies.
En tot cas, els encausats han subratllat que la sentència és "molt important" per dues raons: d'una banda, perquè ha dictat que el tancament va ser il·lícit; i per un altre, perquè admet que durant el període d'incomunicació no va haver control suficient per part dels jutges. Abans de tenir notícies sobre el veredicte, els encausats estaven preocupats, però, segons ells, l'absolució era d'esperar. "La mateixa Fiscalia ha demanat l'absolució, mantenint la postura que havia adoptat en 2006. Els nostres advocats van fer un treball excel·lent. Les manques i arbitrarietats dels perits de la Guàrdia Civil han quedat en evidència. No es van poder negar les tortures i les seves conseqüències".
Els encausats han expressat el desig que la sentència tingui una influència positiva en altres casos en els quals l'acusació es basa en els mateixos principis. En concret, han recordat als processats del caso Udalbiltza —Assemblea de Municipis i Electes Municipals del País Basc—, i als treballadors del diari Egin, encausats en el sumari 18/98 que avui dia es troben en la presó.
De nou han agraït tota l'ajuda rebuda aquests set anys, sobretot a la societat basca, a la catalana, que els ha donat suport com si fossin part de Catalunya, i als quals a Madrid els han donat suport, "en contra del corrent general".
Per a agrair l'ajuda de la societat basca, els processats han convocat un gran acte per al pròxim 25 d'abril, a les 11:30 del matí, en el Palacio Euskalduna de Bilbao.